HOME
|
WINE
|
PURCHASE
|
NEWS
|
ABOUT
|
SCHNOOK
2017 PINOT GRIS
Cayuga Lake Vineyard
Dry White Table Wine
Cases produced: 62
Alcohol: 11.9%
Total sulfite addition: 35 ppm
Soil: Loam over shale, slate and limestone
Grape: 100% Pinot gris
- Crushed and destemmed
- Ambient Yeast
- Stainless Steel
- Unfined and Unfiltered
ELEVAGE: Crushed grapes were given a 3 day maceration before being pressed. Settled and browned juice was pumped into a single stainless steel tank to ferment via ambient yeast. Fermentation continued into July 2018, including full malolactic fermentation. In September the wine was racked off its lees and gravity bottled by hand without fining or filtration.
TASTING NOTE: Amber-rose color, nose of ripe papaya and orange zest and slate. Full body palate with tropical fruit flavors and a rich, saline, glycerin finish.
CAYUGA LAKE VINEYARD: Located in Ovid, New York on the western shore of Cayuga Lake and is composed of Howard gravelly loam derived from shale, limestone and slate. The vineyard's gentle, well drained slope towards the lake and east facing exposure combine to create a perfect site for cool climate viticulture. This vineyard produces wine of great finesse with bright, mineral studded acidity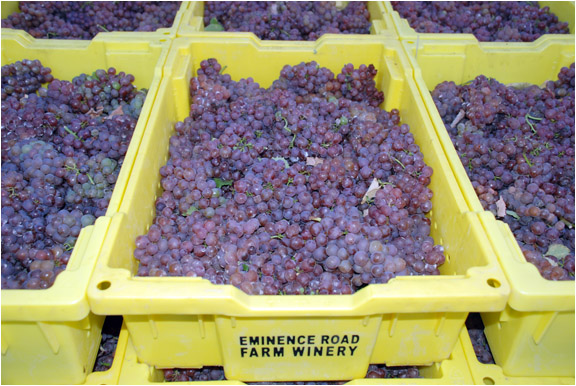 Cayuga Lake Vineyard pinot gris.
HOME
|
WINE
|
PURCHASE
|
NEWS
|
ABOUT
|
SCHNOOK
© Copyright 2019 • EMINENCE ROAD FARM WINERY
3734 Eminence Road, Long Eddy, New York 12760