HOME
|
WINE
|
PURCHASE
|
PRESS
|
ABOUT
|
SCHNOOK
ABOUT EMINENCE ROAD FARM WINERY
Eminence Road Farm Winery makes small lots of dry table wine in a barn on the western edge of the Catskills using grapes from sustainably managed Finger Lakes vineyards. All wine is bottled by hand, unfined and unfiltered with nothing added but a minimal amount of sulfite for stability and occasionally neutral yeast. Andrew Scott, Jennifer Clark, Brigette and Barry are the proprietors.
Jennifer, Andrew, Lester and the 800 plus pound pumpkin we grew. (Photo credit: Andy Ryan)
ABOUT US: Very briefly. Prior to getting into the wine business Andrew worked in publishing as an art director doing advertising design and Jennifer did internet marketing in the apparel industry. Living in New Jersey and working in Manhattan, they became passionate wine lovers filling a cellar with treasures from the Loire Valley, Beaujolais, Bordeaux and beyond. In 1996 Andrew made his first batch of homemade wine from a kit received as a Christmas present from his brother. It came out terrible. But the seed was planted and soon fall centered around grape runs to the Finger Lakes and the home winemaking grew bigger each year moving from the kitchen, to the basement, to the garage and then finally to a barn in upstate New York where it took root and blossomed into an actual licensed winery. In 2007 they relocated to the farm and in 2008 made their first official commercial wines under the Eminence Road Farm Winery label.
25 plus year-old, spur pruned cabernet sauvignon vine in Elizabeth's Vineyard.
ABOUT THE WINE: Grapes come from vineyards located in the Finger Lakes region of New York-- about a hundred miles west of the winery. All wine is made from single vineyard lots and labeled as such except in cases where the vineyard name is proprietary. We work with the same growers each season, often taking fruit from the same rows year after year. Grapes are hand harvested directly into our picking boxes and driven to the barn in Acidalia where all processing, fermentation, elevage and bottling takes place.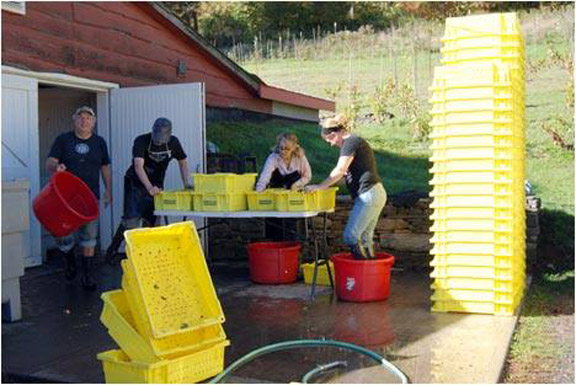 Sorting and stomping grapes in 2016.
At the winery red grapes are sorted and foot crushed without being destemmed. Fermentations (generally performed by native yeasts but occasionally a neutral yeast is added) take place in one ton bins with once daily manuel punch downs. A small water powered bladder press is used to retrieve the juice from the must. Settled juice is pumped into old oak barrels or stainless steel tanks to finish fermentation and all wines are allowed to rest on their lees, undisturbed and without being racked, for the duration of the fermentation process. White grapes are crushed and destemmed and then pressed after a 2 day maceration. Settled white juice is then allowed to brown prior to fermentation. All wines, red, white and rose, go through malolactic fermentation if they so desire. After one year, if fermentation has finished, the wine is racked off its lees and bottled by hand without fining or filtration. Total sulfite additions are typically between 35 and 45 parts per million (20 ppm at crush, 15 ppm at bottling).
Eminence Road Farm Winery is one hundred percent solar powered.
DIRECTIONS FOR USE: Because the wine is bottled without fining or filtration and only a minimal amount of sulfite it is important it be kept cool at all times as high temperatures can greatly diminish flavor, aroma and quality. Ideal storage conditions are a temperature of fifty-five degrees Farenheight with 70 percent humidity and complete darkness. Cork finished bottles must be stored on their side. An unfiltered wine will often have some amount of sediment in the bottle. This is a natural, harmless deposit that can be easily removed with careful decanting which we recommend for all wines, reds especially. Serve cool but never cold. For best results drink wine outside with good food and someone you love.
HOME
|
WINE
|
PURCHASE
|
PRESS
|
ABOUT
|
SCHNOOK
© Copyright 2008-2021 • EMINENCE ROAD FARM WINERY
3734 Eminence Road, Long Eddy, New York 12760