HOME
|
WINE
|
PURCHASE
|
NEWS
|
ABOUT
|
SCHNOOK
2021 Pinot Gris - Five Dots
Dry Orange Table Wine
100 Cases Produced
- Grape: 100% Pinot Gris
- Alcohol: 10.5%
- Total sulfite addition: 45 ppm
- Crushed and destemmed
- Five days skin contact
- Stainless Steel - 10 months (no racking)
- Unfined and Unfiltered
- Farming: Conventional/sustainable
- Vineyard: Cayuga Lake, east facing, gentle slope
- Soil: Gravelly loam derived from shale, limestone and slate
ELEVAGE: Grapes were crushed, destemmed and put into one ton bins to macerate in the shade for five days. Pressed, browned and settled juice was moved to stainless steel where fermentation continued until June 2022. In August the wine was racked and bottled without fining or filtration.
TASTING NOTE: Melon and orange peel, soft, lightly fruity and dry with chalky acid.
MISCELLANEOUS: For 2021 we lucked into a second ton of grapes from this vineyard and made twice the regular amount of wine. That math checks out. It was a good thing, too, because in 2022 yields were down and there was no fruit available at all.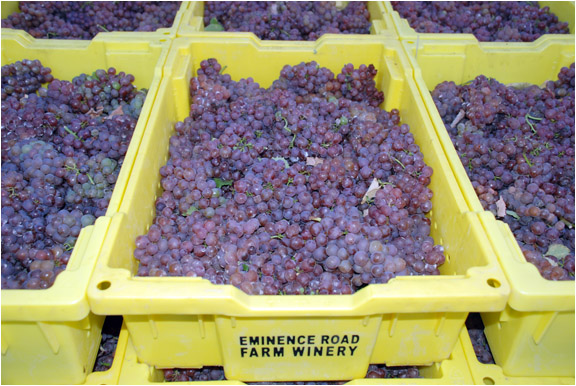 Cayuga Lake Vineyard pinot gris.
HOME
|
WINE
|
PURCHASE
|
NEWS
|
ABOUT
|
SCHNOOK
© Copyright 2023 • EMINENCE ROAD FARM WINERY
3734 Eminence Road, Long Eddy, New York 12760